Participate in a Cause
---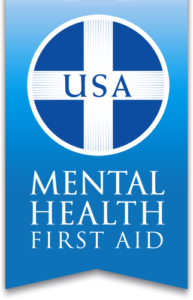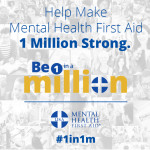 Let's make Mental Health First Aid as common as CPR. Find a course near you today!
---
The
American Foundation for Suicide Prevention
(AFSP) is dedicated to saving lives and bringing hope to those affected by suicide. AFSP now has 
local chapters
in all 50 states with programs and events nationwide. We encourage you to get involved in your community, connect with those around you, and help raise funds to support programs that promote suicide awareness, education and prevention.
Participating in one of AFSP's Out of the Darkness Walks is a great way to make a difference.
Campus Walks are held in the spring.
Community Walks are held in the fall.
Overnight Walks are held twice a year in large cities across the country. In 2018, they will happen June 2 in Dallas, TX and June 16 in Philadelphia, PA.
---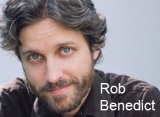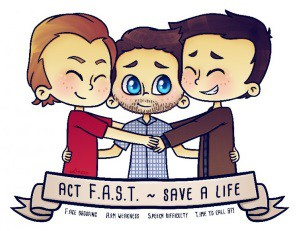 In October 2013, Rob Benedict (lead singer of
Louden Swain
/Chuck on
Supernatural
) suffered a stroke near the end of the
Supernatural
convention in Toronto (TorCon). In honor of Rob's recovery, we are encouraging everyone to recognize and respond to the warning signs of a stroke
FAST
:
F
ace drooping,
A
rm weakness,
S
peech difficulty,
T
ime to call 911.
As Rob explains in this 
Creation Stands video
,
"It was unexpected and random, and if it hadn't been for the quick actions of those around me, most notably my friend Richard Speight Jr, I may not be here today. The American Stroke Association 
(and the
National Stroke Association
)
provides insight on how to spot a stroke, how to prevent one and where to get help. Strokes can happen to anyone, at any age. Stay informed and save someone's life." 
* Chibi artwork by Angie Siketa