About SPN Survivors
"Be brave enough to start a conversation that matters."
That's how we got started. And today, we work hard to start those conversations every single day!
We believe everyone has a role to play in reducing the suicide rate in each and every community we come in contact with and it all starts with being willing to talk about 'it' . . . our own mental health. But what IS mental health?
Mental Health affects how you feel, how you think and how you behave as you cope with life. It determines how you handle stress, relate to others, make choices and perform at work and school.
Mental Health is Everyday Living
We created our two annual events, March for Hope and You Matter! Day, as well as our programs and classes, to engage and equip communities to strengthen mental health and prevent suicide.  We all have struggles and challenges in life but we do not need to face these battles alone. Together we can build community and support one another in ways that truly make a difference.
Helping People, Saving Lives: The Family Business!
Our History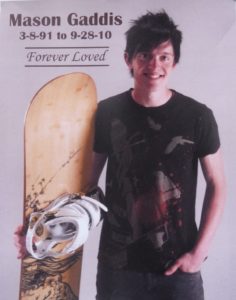 In 2010, founders David and Karla Truxall were blind-sided by the loss of their nephew, Mason, to suicide. There were so many questions that had very few answers and the pain from this loss was devastating. It was also difficult to find the support that Karla needed to care for her mental and emotional health while grieving the overwhelming loss of her nephew.  Without this support in place, Mason's death quickly became the tipping point of an emotional downward spiral and Karla suffered in silence for two years before she realized she needed counseling. Part of the ongoing homework assignment from her counselor was to look for opportunities to talk about Mason, to talk about suicide and share her story of loss and recovery. As a result, in 2014 the Truxalls created SPN Survivors as their way of taking their loss, their journey, and paying it forward to help others.
SPN has two meanings. The first is Suicide Prevention Network.
Being a Survivor of Suicide Loss is NOT a club you want to be a member of. We want to spare other families the devastating loss of losing a loved one by suicide by reaching out and offering a network of support through education and awareness of How to Build a Foundation that Supports a Healthy You before there is a crisis.
We also know first hand how important it is to have the support system required to recover from suicide loss and that starts by knowing You Are Not Alone. Resources are available to help you navigate the roller coaster of emotions and we're here to help you find them.
The second meaning of SPN is that it is the abbreviation for the TV show Supernatural.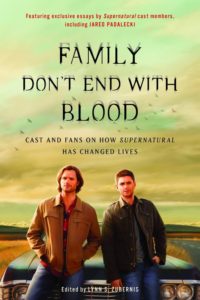 As fans of the show, we are part of the SPN Family and we are forever grateful for the therapeutic role the SPN Family has played in our lives.  In fact, our original motto Helping People, Saving Lives: The Family Business! is also the name of our chapter in the book Family Don't End with Blood: Cast and Fans on How Supernatural Has Changed Lives which is also available through our eBay store.
"Writing my story was one of the hardest things I have ever done but also the most therapeutic thing I could have done to help me in my recovery from suicide loss." – Karla (President and Founder of SPN Survivors) 
The last eight years have been an incredible journey. Thank you for all your support – the stories, the hugs, the feedback, the love! YOU inspire us to keep moving forward Helping People, Saving Lives: The Family Business!
Always Keep Fighting for better days ahead because You Matter!
Photo credits: Phil Bockman, Karla Truxall and Chris Schmelke