March for Hope:  Moving together for a brighter tomorrow.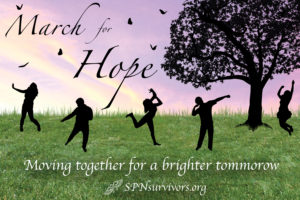 March for Hope is our annual spring fundraiser and mental health awareness event where we combine movement and music with encouragement and education to create fun and rewarding ways to Take Care of You. In addition to taking care of our physical health and spiritual health, it is equally important that we focus on taking care of our mental health, which includes our emotional, psychological and social well-being.
#March4Hope and #TakeCareofYou
EVERYONE is invited to join us online via Facebook, Twitter and Instagram as we make #March4Hope and #TakeCareofYou a month long event using these hashtags with various activities supporting your physical, mental and emotional health.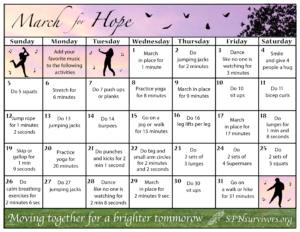 #TakeCareofYou includes your mind, body and spirit. Therefore, we invite you to:
Challenge yourself to do something each day to #TakeCareofYou.
Follow us on Twitter, Facebook and Instagram for encouragement and reminders for the daily activities to #TakeCareofYou.
Join our Stepping Up to Help Others fundraising campaign from our Facebook Page.
Ask your friends and family to join you, and sponsor you, in our #March4Hope #TakeCareofYou fundraising and mental health awareness campaign.
March for Hope Fundraising Campaign: Stepping Up to Help Others
We all have struggles and challenges in life, but we do not need to fight these battles alone. Together we can help "Connect, Communicate, Care" for one another and make a difference Helping People, Saving Lives: The Family Business!