SPN Survivors:  Helping People, Saving Lives: The Family Business! 
We are a 501c3 non-profit organization whose mission is to reach out, offer support, and bring people together through education and awareness while shining a spotlight on suicide prevention, self-care, Mental Health First Aid, and local, state and national resources.
Connect, Communicate, Care

.

We all have struggles and challenges in life, but we do not need to fight these battles alone. Through our programs and events, we reach out and help others in our community by providing education and awareness about good mental health. In fact, our next event March for Hope is all about #TakeCareofYou (mind, body and spirit) and we are looking for volunteers and people with event planning and fundraising experience to help us make this years event a wonderful success! Check out our 1st video we made after last years event and join us as we continue to make a difference Helping People, Saving Lives: The Family Business!
---
Upcoming Events: (local and national)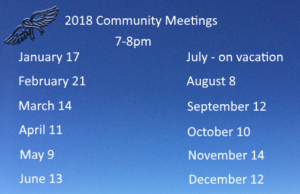 Come join us February 21 in Livonia!
We meet at the Livonia Chamber of Commerce (33300 5 Mile Rd, Suite 212 – NE corner of Farmington & 5 Mile) from 7-8pm to share information, promote good mental health, support those who struggle and ask for community input and involvement to make a difference through volunteer work, event planning and fundraising for our two annual events; March for Hope and #YouMatter! Day.
  Tipping Point Theatre January 18 – February 25 in Northville
We highly encourage you to attend this intimate and interactive performance about a child's view of his mother's depression. In hope of combating her suicidal thoughts, he makes a list of Every Brilliant Thing worth living for. Throughout the child's life, the list continues to grow and serves as a reassuring mechanism through their best and worst times.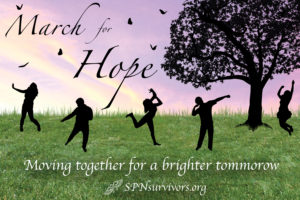 March for Hope: Moving Together for a Brighter Tomorrow
#March4Hope is our annual spring fundraiser and mental health awareness campaign where we combine movement and music with encouragement and education to create fun and rewarding ways to #TakeCareofYou. In addition to taking care of our physical health and spiritual health, it is equally important that we focus on taking care of our mental health, which includes our emotional, psychological and social well-being. 

  Depression Center's conference March 13-14 in Ann Arbor
Register now to attend the 16th Annual Depression on College Campuses Conference: Redesigning Structures, Spaces, and Processes to Promote Wellness to learn about new research findings, innovative design initiatives, model programs, and policies which demonstrate how redesigning the physical and social environments on a campus can reduce suicide risk and promote mental health.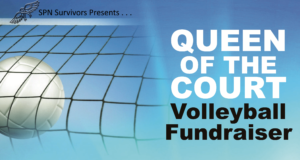 Saturday, March 24 from 9am-1pm at Legacy Volleyball in Novi
For more information and to register, please visit our March for Hope page and our Facebook Event Page.
---
Ongoing Programs:
Comfort Kits:

We continue to collect 

adult/teen themed coloring books, crayons, colored pencils, 5″x7″ notebooks/journals (solid colors or patterns that are gender neutral), and 5″x7″ activity books

(word search, etc) for our Hospital and School Comfort Kits. Kids today face many challenges in their young lives, from depression and anxiety to poverty and domestic abuse, that without healthy coping skills and support can leave them feeling completely overwhelmed. Our Comfort Kits not only provide ways to reduce the stress of the situation but also provide support and encouragement to Always Keep Fighting for better days ahead because #YouMatter!

Amazon Wish List:

We have created an Amazon Wish List of suggested Comfort Kit items, that you can purchase through AmazonSmile, and have shipped to us: SPN Survivors, P.O. Box 51426, Livonia, MI 48151 ~ Of course, monetary donations are always accepted here on our website.

Etsy Store:

 Our Battle Buddies make great gifts for friends and family of all ages and they are available to order every day from our Etsy store. Every Comfort Kit we donate includes one of our Battle Buddies and we have heard some amazing stories of how they are truly Helping People, Saving Lives: The Family Business!
---
Awareness Alley
The days and events listed below are opportunities for you to #GetKind and increase your awareness so you are better able to reach out and help others in your community.
January 1 ~ Global Family Day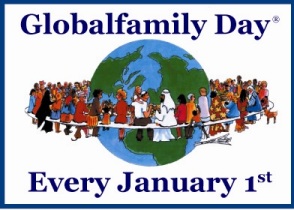 A celebration of One Day for Peace & Sharing.
Not all biological families may get along but it is still important for you to spend time in a peaceful, supportive and sharing environment with those you consider family. In fact, there are several health benefits that come from social interaction with family and friends including finding healthy ways to cope with stress, developing better cognitive functions, improving psychological well-being, and better cardiovascular health (due to lower stress levels). So let's practice good physical, mental and emotional health by sharing and spending time with family.
January 11 ~ International Thank You Day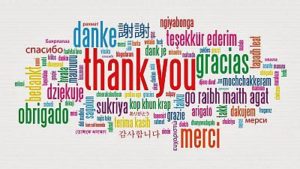 From our heart to yours . . . Thank You!
According to psychologists, words of thanks have a warming and comforting effect if you say them sincerely and from the bottom of your heart. So let's practice good mental health and express our genuine thanks to those around us for all that they do in our lives.
January 21 ~ National Hug Day
Simply put: Hugs are good for our health! A good hug increases our oxytocin levels (feelings of happiness) and decreases our cortisol levels (feelings of stress). So let's practice good physical and mental health today and share some good quality hugs and snuggles with those who need our love and support.
January 24 ~ National Compliment Day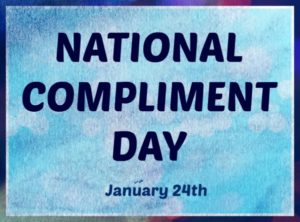 Your story inspires me!
A sincere compliment has a powerful effect! It can instill confidence in a child, or validate someone's hard work. A compliment not only improves the receiver's mood, but it also says something about the giver. It tells them you noticed. We all feel the need to be seen, to be heard, and feel validated so whether we recognize someone's achievement, their character or their sense of style, a compliment can go a long way in meeting those emotional needs. So let's practice good mental health and express how we feel with a compliment.
---
Did You Know . . .
Did you know that 50% of all mental illness develops by the age of 14, when a young person is starting high school? And that 75% of all mental illness develops by the age of 24? Mental illness does not discriminate and affects every school and every neighborhood across the country. The good news is that mental illness is a health disorder that IS treatable. Education and awareness are essential in early detection, seeking help and realizing "You are NOT alone!"
---
Do You Know Me?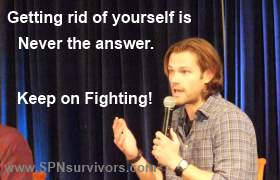 SPN Survivors is looking for the young Supernatural fan who attended ChiCon 2013 and asked Jared Padalecki and Jensen Ackles about suicide at the end of their panel. That moment forever changed our lives and an open letter has been written to her in hopes that she will contact us. If you know who this person is, please let her (or her family) know we would love to talk to her. Thank you!