In the Spotlight:
Each month we will shine our spotlight on a charity, event or opportunity for you to get involved and make a difference in your own community. This month's Spotlight is on Mental Health First Aid classes and the importance of knowing how to help someone in a critical time of need because our mental health is just as important as our physical health. Today and everyday, we are Helping People, Saving Lives, The Family Business!
Inspirational Quote: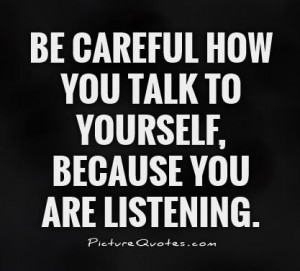 ---
Upcoming Events: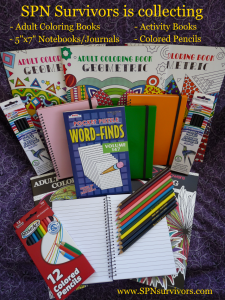 We are collecting adult coloring books, crayons, colored pencils, 5″x7″ notebooks/journals (solid colors only please), and 5″x7″ activity books (word search, etc for teens) all summer long and at our table at the Supernatural conventions in Pittsburgh (July 8-10), Minneapolis (Aug 12-14) and Chicago (Sept 9-11). Come see us in the vendors room and support our efforts to help others.
SPN Survivors has partnered with a local hospital to provide "comfort kits" to teens ages 12-18 who come to the ER seeking help for depression, self-injury, suicide risk and other behavioral issues. We want our "comfort kits" to not only provide ways to reduce the stress of the situation but also provide support and encouragement to Always Keep Fighting for better days ahead because #You Matter.
Donations are also accepted here on our website or by mailing items to:
SPN Survivors, P.O. Box 51426, Livonia, MI 48151
We will also have our Battle Buddies available at the conventions. We introduced them at ChiCon 2015 and they were a HUGE hit and SOLD OUT before J2 took the stage on Sunday. Now they are also available to order from our Etsy store, along with our custom designed t-shirts, wristbands, and buttons. We have heard some amazing stories of how our Battle Buddies are truly helping people of all ages, and with your help, we know they will continue to help those who need them.
THANK YOU to everyone who helped us raise funds to support Survivors of Suicide by promoting the auction of one of our original t-shirts with 12 autographs from the Supernatural cast, including Jared Padalecki, Jensen Ackles, Misha Collins and Mark Sheppard.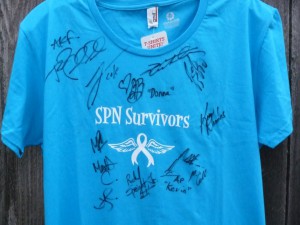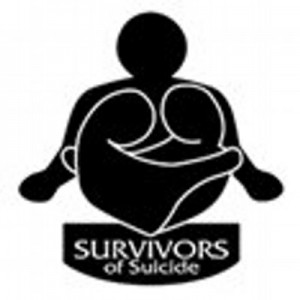 ---
Awareness Alley
The days and events listed below are opportunities for you to #GetKind and increase your awareness so you are better able to reach out and help others.
Mental Health First Aid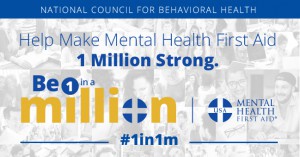 July 30-August 7   National Friendship Day
August 26  –  National Dog Day
---
Post-traumatic stress disorder (PTSD) is a mental health condition that is triggered by a terrifying, traumatic event (either experiencing it or witnessing it) such as sexual or physical assault, natural or man-made disaster, and war-related combat stress. Symptoms may include flashbacks, nightmares and severe anxiety, as well as uncontrollable thoughts about the event. If you know someone that is experiencing PTSD, please let them know there is hope and treatment options available.
Did you know that 50% of all mental illness develops by the age of 14, when a young person is starting high school?And that 75% of all mental illness develops by the age of 24? Mental illness does not discriminate and affects every school and every neighborhood across the country. The good news is that mental illness is a health disorder that IS treatable. Education and awareness are essential in early detection, seeking help and realizing "You are NOT alone!"
Today and Always . . .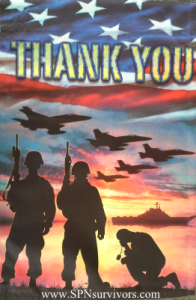 ---
Do You Know Me?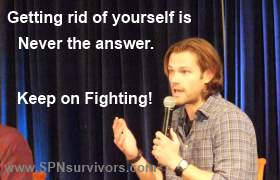 SPN Survivors is looking for the young Supernatural fan who attended ChiCon 2013 and asked Jared Padalecki and Jensen Ackles about suicide at the end of their panel. That moment forever changed our lives and an open letter has been written to her in hopes that she will contact us. If you know who this person is, please let her (or her family) know we would love to talk to her. Thank you!