SPN Survivors:  Helping People, Saving Lives: The Family Business!
We are a 501c3 non-profit organization whose mission is to reach out, offer support, and bring people together through education and awareness while shining a spotlight on suicide prevention, self-care, Mental Health First Aid, and local, state and national resources.
Connect, Communicate, Care

.

We all have struggles and challenges in life, but we do not need to fight these battles alone. Through our programs and events, we reach out and help others in our community. In fact, we are pleased to announce our 1st video highlighting our two annual events: March for Hope and #YouMatter! Day. Please join us as we continue to make a difference Helping People, Saving Lives: The Family Business!
---
Upcoming Events: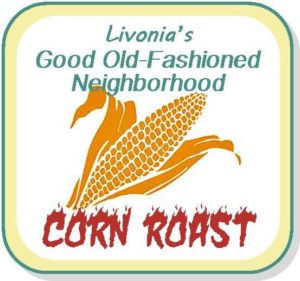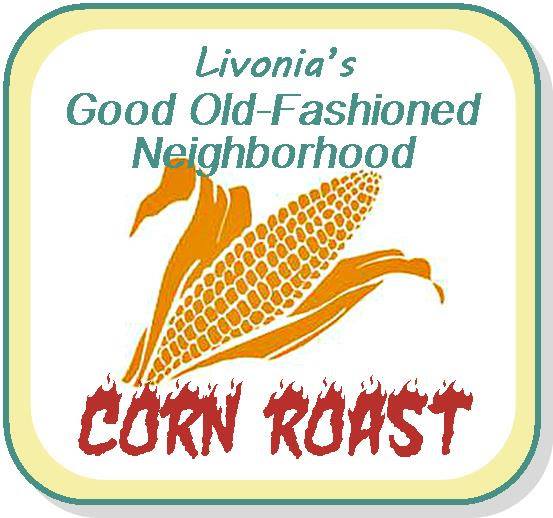 Sunday afternoon, September 17 in Livonia
"Help us celebrate at the John Stymelski Veterans Park and hobnob with some of the world's best neighbors in one of Michigan's best cities." – host Friday Musings. SPN Survivors will be there promoting #YouMatter! Day and "Creating ripples of kindness across our community". Come join the fun!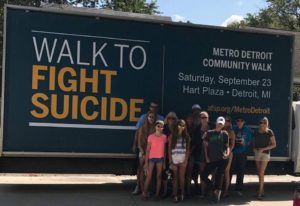 Saturday, September 23 in downtown Detroit
Starting at Hart Plaza, the Metro Detroit Out of the Darkness Community Walk is a 5K walk designed to bring people together for healing and support as they remember their loved ones and raise funds for suicide prevention, education and advocacy in our community. SPN Survivors has found these walks to be very beneficial in our own personal recovery from suicide loss. We will also have a table in the resource area promoting #YouMatter! Day and other ways to reach out and make a difference.
  #YouMatterWeek is September 23-30
How will you celebrate #YouMatterDay and make a difference in your community?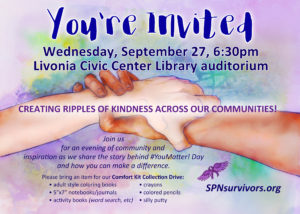 Wednesday, September 27 in Livonia
In addition to observing World Suicide Prevention Day on Sunday, September 10th,  we invite you to join us and "Take a minute, change a life" by attending our #YouMatter! Day celebration on Wednesday, September 27. You can easily help us "create ripples of kindness across our community" by participating in our Collection Drive for our Comfort Kit Program. From 6-8pm in the library lobby, we will be collecting adult style coloring books, activity books, notebooks, journals, crayons, colored pencils and silly putty as part of our #YouMatter! Day activities. Be sure to stop by and learn how you can make a difference Helping People, Saving Lives: The Family Business!
---
Ongoing Programs:
Comfort Kits:

We continue to collect 

adult coloring books

,

crayons

, 

5″x7″ notebooks/journals

(solid colors with NO spiral binding please),and 

5″x7″ activity books

(word search, etc for teens) to deliver to teens ages 12-18 who come to the ER seeking help for depression, self-injury, suicide risk and other behavioral issues. Our Comfort Kits not only provide ways to reduce the stress of the situation but also provide support and encouragement to Always Keep Fighting for better days ahead because #YouMatter!

Amazon Wish List:

We have created an Amazon Wish List of suggested Comfort Kit items, that you can purchase through AmazonSmile, and have shipped to us: SPN Survivors, P.O. Box 51426, Livonia, MI 48151 ~ Of course, monetary donations are always accepted here on our website.

Etsy Store:

 Our Battle Buddies make great gifts for friends and family of all ages and they are available to order every day from our Etsy store. Every Comfort Kit we donate includes one of our Battle Buddies and we have heard some amazing stories of how they are truly Helping People, Saving Lives: The Family Business!
---
Awareness Alley
The days and events listed below are opportunities for you to #GetKind and increase your awareness so you are better able to reach out and help others in your community.
September 5 ~ International Day of Charity
   How will you make a difference?
September 4-10 ~ National Suicide Prevention Week
A week dedicated to organized activities spreading education and awareness. Be the Voice and join the conversation!
September 10 ~ the 15th World Suicide Prevention Day

  Take a minute, change a life.
"As members of communities, it is our responsibility to look out for those who may be struggling, check in with them, and encourage them to tell their story in their own way and at their own pace. Offering a gentle word of support and listening in a non-judgemental way can make all the difference." – International Association of Suicide Prevention (IASP)
September 21 ~ International Day of Peace & World Gratitude Day
September 23-30 ~ #YouMatterWeek
September 28 ~ #YouMatter! Day
---
Did You Know . . .
Did you know that 50% of all mental illness develops by the age of 14, when a young person is starting high school? And that 75% of all mental illness develops by the age of 24? Mental illness does not discriminate and affects every school and every neighborhood across the country. The good news is that mental illness is a health disorder that IS treatable. Education and awareness are essential in early detection, seeking help and realizing "You are NOT alone!"
---
Do You Know Me?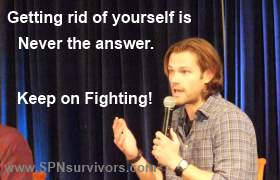 SPN Survivors is looking for the young Supernatural fan who attended ChiCon 2013 and asked Jared Padalecki and Jensen Ackles about suicide at the end of their panel. That moment forever changed our lives and an open letter has been written to her in hopes that she will contact us. If you know who this person is, please let her (or her family) know we would love to talk to her. Thank you!