In the Spotlight:
Each month we will shine our spotlight on a charity, event or opportunity for you to get involved and make a difference in your own community. This month's Spotlight is on Suicide Prevention and #You Matter! Day.
September 28 is #YouMatter! Day.
This years theme for Suicide Prevention is "Connect, Communicate, Care".
We encourage everyone to reach out to others and "Create ripples of kindness across our communities" because "It's amazing how kind words and actions can create a ripple effect and many others will benefit from the positive things you do and say."  – Be THAT ripple effect! Today and everyday #YouMatter!
---
Upcoming Events: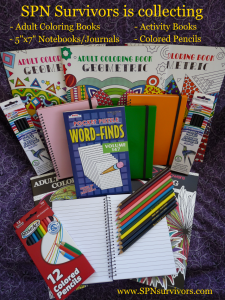 We are collecting adult coloring books, crayons, 5″x7″ notebooks/journals (solid colors only please), and 5″x7″ activity books (word search, etc for teens) all summer long and at our table at the Supernatural conventions in Pittsburgh (July 8-10), Minneapolis (Aug 12-14) and Chicago (Sept 9-11). Come see us in the vendors room and support our efforts to help others.
SPN Survivors has partnered with a local hospital to provide "Comfort Kits" to teens ages 12-18 who come to the ER seeking help for depression, self-injury, suicide risk and other behavioral issues. We want our "Comfort Kits" to not only provide ways to reduce the stress of the situation but also provide support and encouragement to Always Keep Fighting for better days ahead because #You Matter!
Donations are also accepted here on our website or by mailing items to:
SPN Survivors, P.O. Box 51426, Livonia, MI 48151
SPN Survivors Celebrates its 2nd Anniversary as a 501c3 public charity!
We will be celebrating our 2nd Anniversary from September 10 (World Suicide Prevention Day) through October 27 (our actual anniversary date) with special activities, ebay auctions, give-aways and the launch of our next program geared towards Helping People, Saving Lives, The Family Business!
Our Battle Buddies continue to help people of all ages in amazing ways and we know, with your help, we can make a difference in many more lives. Every Comfort Kit we donate includes one of our Battle Buddies and they are available for you to purchase from our Etsy store, or at conventions and other community events we attend. We can't thank you enough for all your feedback. Your stories not only touch our hearts but inspire us to keep pushing forward Helping People, Saving Lives, The Family Business!

---
THANK YOU to everyone who helped us raise funds to support Survivors of Suicide by promoting the auction of one of our original t-shirts with 12 autographs from the Supernatural cast, including Jared Padalecki, Jensen Ackles, Misha Collins and Mark Sheppard. These funds will be applied to the cost of reprinting their "Recovering from Suicide Loss:  A self help booklet for anyone who has lost someone to suicide" that we offer at our table at every community event we attend.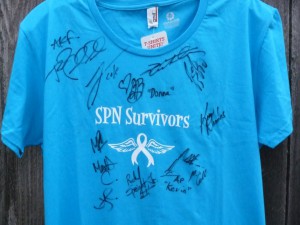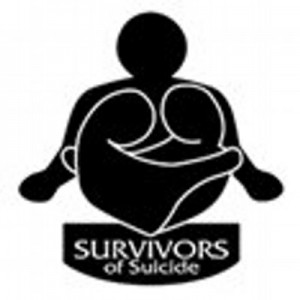 ---
Awareness Alley
The days and events listed below are opportunities for you to #GetKind and increase your awareness so you are better able to reach out and help others.
October 1-31    Depression Awareness and Domestic Violence Prevention Month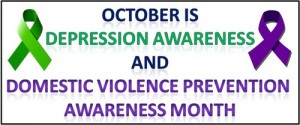 October 2-8    Mental Illness Awareness Week

October 3  ~  National Day without Stigma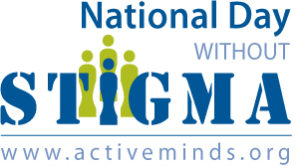 Stigma is shame. Shame causes silence. Silence hurts us all.
October 6  ~  National Depression Screening Day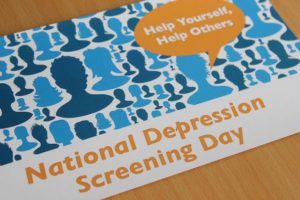 This program was started in 1991 by Screening for Mental Health, Inc. (SMH) a non-profit organization.
October 7  ~  World Smile Day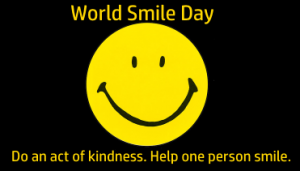 Devoting the day to smiles and kindness throughout the world.
October 10  ~ World Mental Health Day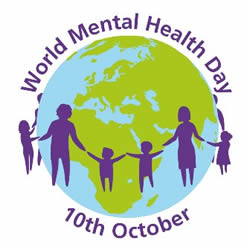 Let's learn the basic principles of Mental Health First Aid so we can reach out and help others.
October 27  ~  SPN Survivors Anniversary
It's been an incredible journey. Thank you for all your support – the stories, the hugs, the feedback, the love.
YOU inspire us to keep moving forward Helping People, Saving Lives, The Family Business!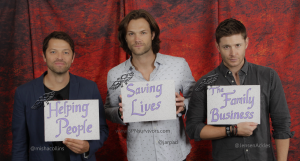 ---
Did You Know . . .
Did you know that 50% of all mental illness develops by the age of 14, when a young person is starting high school?And that 75% of all mental illness develops by the age of 24? Mental illness does not discriminate and affects every school and every neighborhood across the country. The good news is that mental illness is a health disorder that IS treatable. Education and awareness are essential in early detection, seeking help and realizing "You are NOT alone!"
---
Today and Always . . .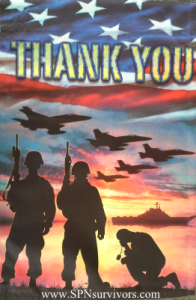 ---
Do You Know Me?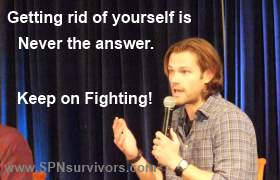 SPN Survivors is looking for the young Supernatural fan who attended ChiCon 2013 and asked Jared Padalecki and Jensen Ackles about suicide at the end of their panel. That moment forever changed our lives and an open letter has been written to her in hopes that she will contact us. If you know who this person is, please let her (or her family) know we would love to talk to her. Thank you!